Ruuthsbo dates back to the 1300s and has a rich and interesting history.
Below you can read all the information that has been preserved until today.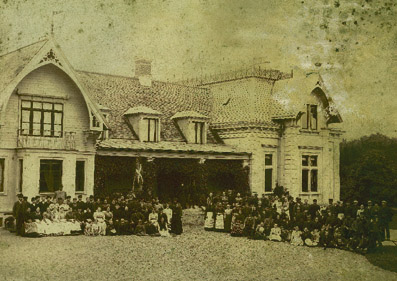 Ruuthsbo's original name is Gundralöf, and the first time we meet this name is 1365 when a man named Gunnrader calls his inheritance name Gundrathlyf. Between 1365 and 1700 there is no information about the property.
During the 18th century, property owners changed relatively often. In 1783, Eric Ruuth of Marsvinsholm stands as owner.
In 1810, Källunda's trust was moved to Gundralöv and the name change was made to Ruuthsbo. The trust Ruuthsbo stays in the Ruuth family for five generations until 1902 when the family dies on the sword side (man side). In 1903 Gustaf Iacobaeus buys Ruuthsbo and in 1930 Gunnar Aage Hagemann acquires the property. In 1947 he leaves to his son Gustav Alexander, who in 1969 transfers to his son Gustav A. Hagemann von Levachoff – Ruuthsbo's current owner.
From the beginning, it is believed that a smaller half-timbered house formed the main building. During the Ruuth family's ownership, some minor additions and rebuilds were made, including 1850 and 1869.
In 1885, Count Ruuth expanded the main building with the so-called castle part in connection with the son's marriage to von Haffner.

In 1918 Gustaf Iacobaeus built the large terrace to the south and made a winter garden. In 1943, the next rebuild took place when the western part of the building was torn down and replaced by a new one.
In 1954 the upper floor was rebuilt and the saddle roof was removed. In 1978, the main building and nearby economy buildings as well as park building memorials were declared. In the early 1980s, a major renovation started, with the western part of the building being demolished and the remaining total renovated.

The total area of ​​the property is about 900 acres, of which 800 acres is land. Ruuthsbo is environmentally certified according to ISO 14001 – For the sake of the environment.
| Owner/event | Year |
| --- | --- |
| Gundrathelyf (Gundralöv) Gunraders heritage | 1365 |
| Hans Cleck | 1700 |
| Jacob von Segerdahl | 1711 |
| Carl Georg Siöblad | 1724 |
| Carl Harald Strömfelt | 1754 |
| Fredrik Gyllenkrok | 1777 |
| Erik Ruuth | 1783 |
| Trust moved from Källunda – name change to RUUTHSBO | 1808 |
| Gustaf Erik Ruuth | 1820 |
| Erik Vilhelm Ruuth | 1841 |
| Gustaf Edvard Ruuth | 1860 |
| Gustaf Magnus Ruuth | 1866 |
| Remodeling of the middle section of the main building | 1869 |
| The "castle part" is built | 1885 |
| Magnus Daniel Ruuth | 1898 |
| Trust expires | 1902 |
| Gustaf Iacobaeus | 1903 |
| The conservatory is being built & new entrance to the castle section | 1918 |
| Gunnar Aage Hagemann | 1930 |
| Gustav Alexander Hagemann | 1947 |
| Gustav A. Hagemannvon Levachoff | 1969 |